Best lightweight Linux distro of 2019
Submitted by Roy Schestowitz on Saturday 15th of June 2019 02:31:35 AM
Filed under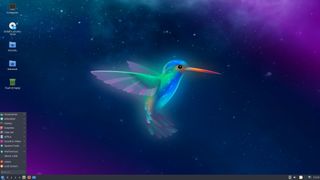 Modern Linux distros are designed to appeal to a large number of users who run modern hardware.
As a result, they have become too bloated for older machines, even if you manually delete files. Without a healthy dollop of system memory and an extra core or two, these distros may not deliver the best performance.
Thankfully, there are many lightweight distros, trimmed and tweaked by expert hands, which can be used to breathe new life into older hardware.
But there's one caveat to bear in mind when working with lightweight distros – they usually manage to support ancient kit by cutting away just about everything you take for granted, such as wizards and scripts which make everyday tasks easier.
That said, these lightweight distros are fully capable of reviving older hardware and can even function as a replacement of your current operating system, if you're willing to adjust to their way of working and install extra programs as necessary.
»
Printer-friendly version

1526 reads

PDF version
More in Tux Machines
Programming: CI/CD and 'DevRel'

Network transparency with Wayland: Final report.

The goal of this 2019 Google Summer of Code project is to develop a tool with which to transparently proxy applications that use the Wayland protocol to be displayed by compositors. Unlike the original X protocol, only part of the data needed to display an application is transferred over the application's connection to the compositor; instead, large information transfers are made by sharing file descriptors over the (Unix socket) connection, and updating the resources associated with the file descriptors. Converting this side channel information to something that can be sent over a single data stream is the core of this work. The proxy program I have developed for the project is called Waypipe. It can currently be found at gitlab.freedesktop.org/mstoeckl/waypipe. (I am currently looking for a better stable path at which to place the project; the preceding URL will be updated once this is done.) A few distributions have already packaged the program; see here; alternatively, to build and run the project, follow the instructions in the README and the man page. My work is clearly identified by the commit logs, and amounts to roughly ten thousand lines of C code, and a few hundred of Python. Also: Vulkan 1.1.120 Released As The Newest Maintenance Release

The ClockworkPi GameShell is a super fun DIY spin on portable gaming

Portable consoles are hardly new, and thanks to the Switch, they're basically the most popular gaming devices in the world. But ClockworkPi's GameShell is something totally unique, and entirely refreshing when it comes to gaming on the go. This clever DIY console kit provides everything you need to assemble your own pocket gaming machine at home, running Linux-based open-source software and using an open-source hardware design that welcomes future customization. The GameShell is the result of a successful Kickstarter campaign, which began shipping to its backers last year and is now available to buy either direct from the company or from Amazon. The $159.99 ( on sale for $139.99 as of this writing) includes everything you need to build the console, like the ClockworkPi quad-core Cortex A7 motherboard with integrated Wi-Fi, Bluetooth and 1GB of DDR3 RAM — but it comes unassembled.

KNOPPIX 8.6.0 Public Release

Version 8.6 basiert auf → Debian/stable (buster), mit einzelnen Paketen aus Debian/testing und unstable (sid) (v.a. Grafiktreiber und aktuelle Productivity-Software) und verwendet → Linux Kernel 5.2.5 sowie Xorg 7.7 (core 1.20.4) zur Unterstützung aktueller Computer-Hardware. English: Knoppix 8.6 new public version is finally out !