Best lightweight Linux distro of 2019
Submitted by Roy Schestowitz on Saturday 15th of June 2019 02:31:35 AM
Filed under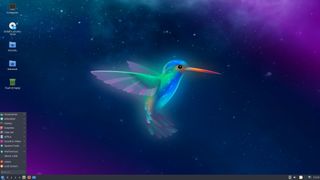 Modern Linux distros are designed to appeal to a large number of users who run modern hardware.
As a result, they have become too bloated for older machines, even if you manually delete files. Without a healthy dollop of system memory and an extra core or two, these distros may not deliver the best performance.
Thankfully, there are many lightweight distros, trimmed and tweaked by expert hands, which can be used to breathe new life into older hardware.
But there's one caveat to bear in mind when working with lightweight distros – they usually manage to support ancient kit by cutting away just about everything you take for granted, such as wizards and scripts which make everyday tasks easier.
That said, these lightweight distros are fully capable of reviving older hardware and can even function as a replacement of your current operating system, if you're willing to adjust to their way of working and install extra programs as necessary.
»
Printer-friendly version

1538 reads

PDF version
More in Tux Machines
Meet the GNOMEies: Max Huang

Max Huang has been GNOME since 2010, starting with forming a GNOME users group in Taiwan. Max has a story you may understand: being a user, meeting the right person, and slowly finding yourself more and more deeply involved with a community in terms of working together and making friends.

Review: Raspberry Pi 4

The Raspberry Pi began life as a hacker's dream: a cheap, low-power, highly extendable, hackable PC that shipped as a bare circuit board. Intended as one part educational device, one part tinkering tool, it became something of a phenomenon that has been used to power everything from scaled-down Mars rovers to millions of science and hackday experiments in schools around the world.

Debian: No longer a "Universal" operating system

The Debian project has removed support for the MIPS architecture. This is the latest CPU architecture to be removed from Debian, betraying their tagline of being "The Universal Operating System".

I take issue not only with their removal of the MIPS architecture, but of their reasoning for doing it.

today's leftovers