Best lightweight Linux distro of 2019
Submitted by Roy Schestowitz on Saturday 15th of June 2019 02:31:35 AM
Filed under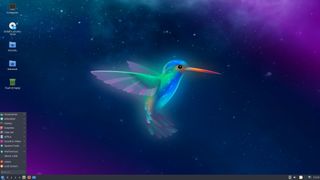 Modern Linux distros are designed to appeal to a large number of users who run modern hardware.
As a result, they have become too bloated for older machines, even if you manually delete files. Without a healthy dollop of system memory and an extra core or two, these distros may not deliver the best performance.
Thankfully, there are many lightweight distros, trimmed and tweaked by expert hands, which can be used to breathe new life into older hardware.
But there's one caveat to bear in mind when working with lightweight distros – they usually manage to support ancient kit by cutting away just about everything you take for granted, such as wizards and scripts which make everyday tasks easier.
That said, these lightweight distros are fully capable of reviving older hardware and can even function as a replacement of your current operating system, if you're willing to adjust to their way of working and install extra programs as necessary.
»
Printer-friendly version

1524 reads

PDF version
More in Tux Machines
Android Leftovers

Kata Containers Packages are Available officially in openSUSE Tumbleweed

Kata Containers is an open source container runtime that is crafted to seamlessly plug into the containers ecosystem. We are now excited to announce that the Kata Containers packages are finally available in the official openSUSE Tumbleweed repository. It is worthwhile to spend few words explaining why this is a great news, considering the role of Kata Containers (a.k.a. Kata) in fulfilling the need for security in the containers ecosystem, and given its importance for openSUSE and Kubic.

[EndeavourOS] The August release is available.

This ISO contains: Calamares 3.2.11 (the latest version of our installer) Kernel 5.2.8 mesa 19.1.4-1 systemd 242.84-1 xf86-video-nouveau 1.0.16-1 XFCE 4.14 bash-completion broadcom-wl-dkms We also took care of some bug fixes: Autologin is working now (if chosen inside Calamares) Virtualbox detection is working Powersaving/screen-locking issues are resolved Added Leafpad as an option to use the editor as admin (not working with mousepad anymore) A general cleanup Removed light-locker (was causing issues)

Emmabuntus DE2 1.05 Released, Which Reduces ISO Image Size

Emmabuntus Team is pleased to announce the release of the new Emmabuntüs Debian Edition 2 1.05 (32 and 64 bits) on 02nd Aug, 2019. It's based on Debian 9.9 stretch distribution and featuring the XFCE desktop environment. This is a lightweight distribution, which was designed to run on older computers. This distribution was originally designed to facilitate the reconditioning of computers donated to humanitarian organizations, starting with the Emmaüs communities.