Microsoft admits Android is the best operating system for mobile devices
Submitted by Rianne Schestowitz on Thursday 17th of October 2019 09:38:02 AM
Filed under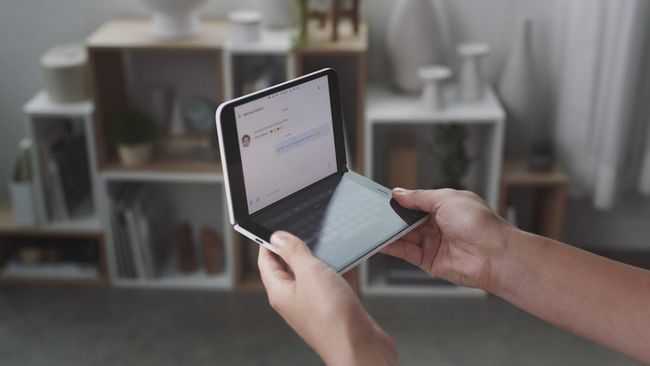 At an event at Microsoft's flagship store in London, Panos Panay, the chief product officer for the Microsoft Devices group, admitted that the company is using Android in its upcoming Surface Duo phone because, quite simply, the "best OS for this product is Android".
It's a noteworthy admission, as Google's Android mobile operating system is one of Microsoft's biggest rivals. In the past, the company has tried – and failed – to take on Android with its own operating system for mobile devices: Windows Mobile.
We've picked all the best 2-in-1 laptops of 2019
Black Friday laptop deals 2019: how to find the best laptop deals
How to buy a laptop on Black Friday and Cyber Monday
While Windows 10 Mobile is no more, it must have been tempting for Microsoft to revive the OS for its upcoming dual-screen handset, so it's commendable that it has gone for the much more popular Android operating system – while being so frank about its reasons.
On one hand, it seems like Microsoft has acknowledged just how hard it is to compete with Android – which is currently the most-used operating system on the planet – a title Microsoft's own Windows OS used to have. The failure of Windows 10 Mobile, and the Windows phones that ran the software, was likely a humbling experience that the company is in no rush to repeat.
»
Printer-friendly version

1590 reads

PDF version
More in Tux Machines
Programming: Dart 2.6 and Python Leftovers

ExLight Linux Distro Is Now Based on Debian Buster, Powered by Linux Kernel 5.4

ExLight Build 191120 is now available for download and it's Arne Exton's second GNU/Linux distribution to ship with the latest Linux 5.4 kernel series, which will officially be announced by Linus Torvalds at the end of the week, on November 24th. For now, ExLight Build 191120 ships with Linux kernel 5.4 RC8. While previous versions of ExLight were based on Ubuntu, starting with Build 191120, the entire distribution is now based on the latest Debian GNU/Linux 10 "Buster" operating system series, featuring the Enlightenment 0.22.4-2 desktop environment and the Calamares 3.2.4-3 graphical installer.

System76 Will Start Designing And Building Its Own Linux Laptops Beginning January 2020

Denver-based PC manufacturer and Pop!_OS Linux developer System76 plans to follow-up its custom Thelio desktop PC with an in-house laptop beginning next year according to founder and CEO Carl Richell. During a recent interview, Richell was quick to emphasize that the entire process of designing, prototyping and iterating the final product could take two to three years. But the company is eager to break into this market and put the same signature "stamp" on its laptop hardware that graces its custom-built Thelio desktop. System76 sells an extensive lineup of laptops, but the machines are designed by the likes of Sager and Clevo. The company doesn't merely buy a chassis and slap Pop!_OS on it, but Richell tells me he's confident that with the experience gained from developing Thelio – and the recent investment into a factory at the company's Denver headquarters – System76 is capable of building a laptop from the ground up that meets market needs and carries a unique value proposition.

Krita 4.2.8 Beta

We had to skip the October release because we were working on a bunch of issues that took longer to resolve than planned, but that means that this release has more fixes than ever. Please test this beta, and take the survey afterwards! There has been a lot of work on vector shapes, the transform tool and, especially, saving on Windows. Windows usually only writes out saved files to the actual disk when it feels like it. So if you'd cut the power to your computer before Windows did that, you might get corrupted files. With 1,500,000 distinct Windows 10 users of Kritain the past month, chances are good for that happening (just like there are people who work exclusively with unnamed autosave files — don't do that!), so we now try to force Windows to write files to disk after saving.