Google outlines plans for mainline Linux kernel support in Android
Submitted by Roy Schestowitz on Wednesday 20th of November 2019 02:52:05 AM
Filed under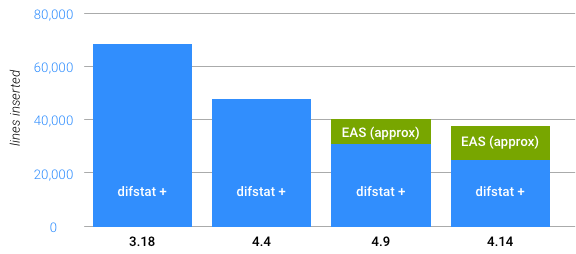 This is an extremely long journey that results in every device shipping millions of lines of out-of-tree kernel code. Every shipping device kernel is different and device specific—basically no device kernel from one phone will work on another phone. The mainline kernel version for a device is locked in at the beginning of an SoC's initial development, so it's typical for a brand-new device to ship with a Linux kernel that is two years old. Even Google's latest and, uh, greatest device, the Pixel 4, shipped in October 2019 with Linux kernel 4.14, an LTS release from November 2017. It will be stuck on kernel 4.14 forever, too. Android devices do not get kernel updates, probably thanks to the incredible amount of work needed to produce just a single device kernel, and the chain of companies that would need to cooperate to do it. Thanks to kernel updates never happening, this means every new release of Android usually has to support the last three years of LTS kernel releases (the minimum for Android 10 is 4.9, a 2016 release). Google's commitments to support older versions of Android with security patches means the company is still supporting kernel 3.18, which is five years old now. Google's band-aid solution for this so far has been to team up with the Linux community and support mainline Linux LTS releases for longer, and they're now up to six years of support.
Last year, at Linux Plumbers Conference 2018, Google announced its initial investigation into bringing the Android kernel closer to mainline Linux. This year it shared a bit more detail on its progress so far, but it's definitely still a work in progress. "Today, we don't know what it takes to be added to the kernel to run on a [specific] Android device," Android Kernel Team lead Sandeep Patil told the group at LPC 2019. "We know what it takes to run Android but not necessarily on any given hardware. So our goal is to basically find all of that out, then upstream it and try to be as close to mainline as possible."
»
Printer-friendly version

3650 reads

PDF version
More in Tux Machines
Android Leftovers

Graphics: AMD, Intel, Vulkan/Flycast and NVIDIA

Watch these videos from the Linux App Summit

For some, the holidays are a hectic time of shopping, cooking, and a house overflowing with loved ones. For others, they're quiet times spent with just a few friends, or even in solitude behind the warm glow of a computer monitor. And for still others, it's a workday like any other. No matter how you end up spending the holiday season this year, there's comfort to be found in the Linux App Summit of 2019. This summit, which combined the strengths of everyone involved in developing applications for Linux, focused on a few major topics...

Most essential apps for every Linux user | 2020

When you first install a Linux distro or do a fresh install on a system, you need to install the essential apps for regular use. That is why I have prepared a quick guide list of the essential apps for every Linux user. So that you can check and go through the installation easily and get the needed apps for your better use and workflow.