LibreRouter: An open-source router that offers GPIO pins in a Raspberry Pi form factor
Submitted by Rianne Schestowitz on Friday 31st of January 2020 05:25:14 PM
Filed under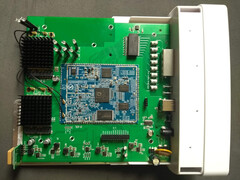 Single-board computers (SBCs) can not only be used as cost-effective options for developers or for creating retro emulators. On the contrary, they can also serve as routers thanks to their wide range of connection options, while some can offer a lot of performance for their size. The Raspberry Pi has practically pre-configured software solutions to this effect, for example.
Now, a DIY solution has been announced by LibreRouter.org. The LR1 is based on a Qualcomm Atheros QCA9558 MIPI processor that can utilise 128 MB of RAM. The router has built-in Wi-Fi too that supports up to IEEE 802.11 b/g/n, while LibreRouter also offers an optional GPS sensor. Using the two mPCIe slots you can connect powerful network cards or cellular routers, too.
»
Printer-friendly version

6250 reads

PDF version
More in Tux Machines
Today in Techrights

Running out of disk space? It's time to check whether Flatpak is the reason. Here's how.

Here's how to clean up Flatpak apps to reclaim your precious disk space. Follow along. 

Android Leftovers

KDE: Multi-Axes Made Easy

Today we want to introduce the last of the new features we are implementing into the 2.9 release which we have recently finalized. To demo this new feature, let's use an example contributed by one of our users. This example is based upon the measurement data from a solar cell. The so-called "incident photon to current efficiency" (IPCE) tells us how many incoming photons are converted into free electrons in the cell. This conversion efficiency, together with the generated current and their dependency on the wavelength of the incoming light, are the usual subjects of studies and optimizations for solar cells. Consider the example where we want to plot the IPCE and the current density in the same plot and to see their behavior as a function of the wavelength. Your first idea may be to just lay out the curves for the plot like this...