ExTiX LXQt Mini with LXQt 0.14.1, Refracta Snapshot and kernel 5.6.2-exton :: Build 200402
Submitted by Roy Schestowitz on Friday 3rd of April 2020 12:34:30 AM
Filed under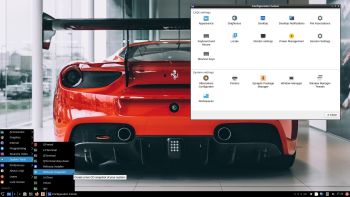 I've made a new "mini" version of ExTiX – The Ultimate Linux System. It is based on (upcoming) Ubuntu 20.04 LTS Focal Fossa. The ISO file is now of 1050 MB, which is good if you want to run the system super fast from RAM. When the boot process is ready you can eject the DVD or USB stick. Use Boot alternative 2 or Advanced options… >> load to RAM. The best thing with ExTiX 20.4 is that while running the system live (from DVD/USB) or from hard drive you can use Refracta Snapshot (pre-installed) to create your own live installable Ubuntu 20.04 system. So easy that a ten year child can do it! ExTiX 20.4 uses the latest kernel – 5.6.2. Released by Kernel.org today.
Study all pre-installed packages in ExTiX 20.4.
»
Printer-friendly version

3749 reads

PDF version
More in Tux Machines
Android Leftovers

All about Kubernetes

Kubernetes is an enterprise-grade container-orchestration system designed from the start to be cloud-native. It has grown to be the de-facto cloud container platform, continuing to expand as it has embraced new technologies, including container-native virtualization and serverless computing. Kubernetes manages containers and more, from micro-scale at the edge to massive scale, in both public and private cloud environments. It is a perfect choice for a "private cloud at home" project, providing both robust container orchestration and the opportunity to learn about a technology in such demand and so thoroughly integrated into the cloud that its name is practically synonymous with "cloud computing." Also: Provision Kubernetes NFS clients on a Raspberry Pi homelab A beginner's guide to Kubernetes container orchestration

Security and Proprietary Issues

Reading about open source in French

English speakers have so many wonderful open source resources that it's easy to forget that communications in English aren't accessible to everyone everywhere. Therefore, I've been looking for great open source resources in Spanish and French, so I can recommend them when the need arises. One I've been looking at recently is LinuxFr.org, which seems to be a fine "agora" for all sorts of interesting conversations in French about open source specifically and open everything else as well.