Happy birthday Audacity: 20 years
Submitted by Rianne Schestowitz on Thursday 28th of May 2020 05:45:47 PM
Filed under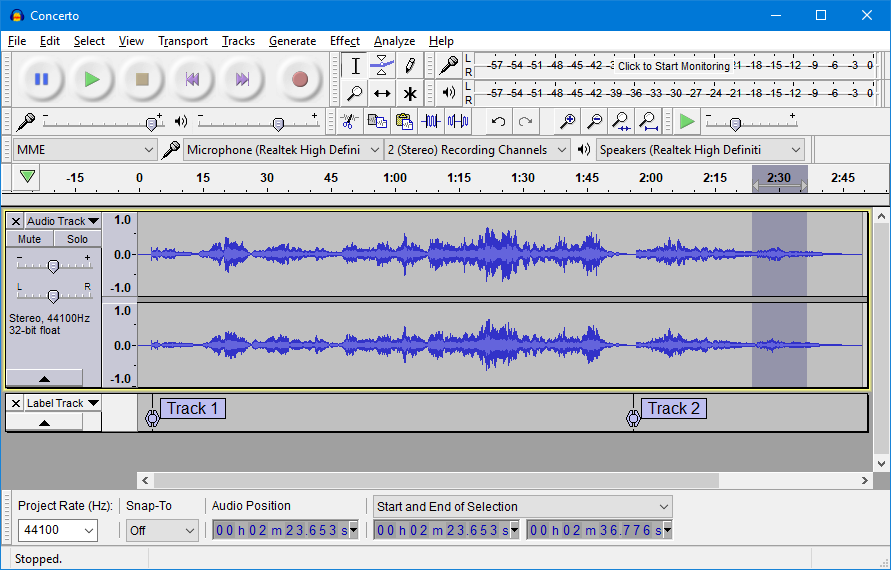 Here is a next update for my 'Digital Audio Workstation' (DAW) software collection.
Today, 28th of May 2020, the Audacity multi-track audio recorder turns 20 years old! This is a nice moment to also release the Slackware packages (only targeting -current, sorry) for their latest and greatest, Audacity 2.4.1 which was released a week ago as a quick bug-fix to the long-awaited 2.4.0.
Along with this new Audacity release, I also have new packages for wxGTK3 (3.0.5.1) which you'll need for Audacity to show its graphical user interface...
»
Printer-friendly version

2613 reads

PDF version
More in Tux Machines
Slackel 7.3 Mate beta1

Slackel 7.3 Mate beta1 has been released. Slackel is based on Slackware and Salix. Includes the Linux kernel 5.4.50, Mate-1.22.1 and latest updates from Slackware's 'Current' tree. Added support to do a real installation to an external usb stick or usb ssd or usb hard disk.

today's leftovers

Programming Leftovers

Data is a set of values. Data can be collected and put in a row, or in a column, or in a table or in the form of a tree. The structure of data is not only the placement of data in any of these forms. In computing, the data structure is any of these formats, plus the relationship among the values, plus the operations (functions) perform on the values. You should already have basic knowledge on tree data structure before coming here, as the concepts there, will be used here with little or no explanation.

Perl does not have a built-in combinations function, but there are several modules (for example Math::Combinatorics) providing the functionality. However, this being a coding challenge, I don't want to use a third-party ready-made solution and prefer to show a way to do it yourself. If we knew in advance how many items we want in each combination, nested loops might be the best solution. But if we want to be flexible about the number of items in each combination, then it is often simpler to use a recursive approach. Here, the combinations subroutine is recursive and is called once for every item wanted in the combination.

I swear it was Perl 5 just a moment ago. I turned my back for all of 5 minutes ... I don't need the new features, but I don't like boilerplate and I'm happy to accommodate those who seek progress. Harking back to lessons from the past, SysAdmins of a certain age may remember the venerable a2p program for converting awk scripts to perl and the horrendous (but working) code that it produced. We had one of those running in production less than 2 years ago until I finally decided to re-write it in Modern Perl. A bit like moving house, as a community we need to face the pain every so often and address the risks and ptifalls, not as reasons to keep to the status quo, but as a checklist of problems to be solved.

Time is a simple thing, right? And working with it in Python is great. You just import datetime and then (somewhat oddly) use the datetime class from that module. Oh except, there are times with timezones, and times without. And why is there a total_seconds() but not total_minutes(), hours() or days() on timedelta? How about computing the number of weeks? What if you wanted to iterate over the next 22 workdays, skipping weekends? Ok, we'd better talk about time in Python! Good thing Paul Ganssle is here. He's a core developer who controls time in CPython.

In the last blog, I wrote about my first two weeks on the GSoC period. In this blog, I would write about the activities to which I have worked further and implemented multiple datasets. [...] Why multiple datasets to GCompris activities? As previously all of the activities were having a generalized dataset so for some of the age groups as for 3-5 yrs the activity seems quite difficult to play, and also for some of the age groups the activity seems to be quite easy. So, multiple datasets help in resolving this issue and we have multiple data for various age groups and all the activities can be more adaptive for the children.

today's howtos

Wine 5.12 was released a day ago as the latest development release of the compatibility layer allows to run Windows apps on Linux and Mac OS. The official apt repository has made the packages for all current Ubuntu releases.

I'm going to begin this rant by saying that there are some things that that the Stack Exchange network is really good with: mainly, programming help. However, it really sucks when it comes to providing help with a specific application where there is already a community. For the past year, I have been the #1 person to answer questions on tor.stackexchange.com. I'm not saying that to pat myself on the back; just to say that I have actually been doing this for a little while.