Welcome FOSSlife! A new web magazine is born
Submitted by Roy Schestowitz on Monday 1st of June 2020 06:11:52 PM
Filed under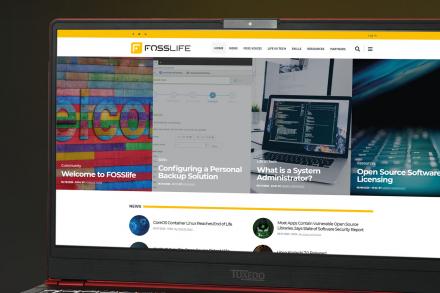 With FOSSlife, a new web magazine was launched today. It's a destination for all who care about the FOSS community and want to follow the trends, tools, projects, programs, and people who define the FOSS experience. The FOSSlife project is proudly supported by Linux Professional Institute (LPI) which is happy to provide a home to this new resource for all existing and future FOSS professionals and enthusiasts.
The FOSS life is about community, it is about advocacy, and it is about bringing people together and building sustainable, accessible solutions. Everyone is invited to become part of this community, which stands for openness and equality like no other. FOSSlife is intended to be a new place to go, both for experienced experts and for those who are interested in the subject and just starting to come to grips with it.
"At the Linux Professional Institute, we are committed to spreading FOSS knowledge as well as the spirit which helped free and open source technology become a worldwide phenomenon," said G. Matthew Rice, Executive Director of the Linux Professional Institute. "It is our mission to promote the use of free and open source by elevating the people who work with it. FOSSlife fits perfectly into this mission, as it helps us share, bundle, and disseminate knowledge about free and open source software and inspire people who are searching for their own approach in gaining this expertise."
»
Printer-friendly version

2068 reads

PDF version
More in Tux Machines
Interview – NXP Linux BSP and Timesys Vigiles Maintenance Service & Security Updates

I've been interviewing Ed White, Manager of NXP's Professional Support and Engineering Services, and Akshay Bhat, Director of Engineering, Security Solutions at Timesys by email to find out more about NXP Linux BSP development process, and how Timesys can help to keep it updated and secure with its Vigiles service.

Screen Zoom and Mouse Indicator on Ubuntu 20.04

Ubuntu can help you to enlarge screen items and easily display cursor movements to your audience. This article is a company to Focal For Teachers and continuation to Screen Zoom on KDE. This is practicable to every GNOME operating system not only Ubuntu but also Fedora, Red Hat, Zorin and others. You can watch practical examples in this new video below and also image editing videos I published recently. For teachers and tutorial makers, this article is for you. Enjoy!

Python Programming

Shell/Bash Picks

You must have played with variables quite a bit if you did any sort of programming. If you never worked with variables before, you can think of them as a container that stores a piece of information that can vary over time. Variables always come in handy while writing a bash script and in this tutorial, you will learn how to use variables in your bash scripts.