Purism's Librem 5: Dogwood Thermals and Battery Life
Submitted by Roy Schestowitz on Tuesday 28th of July 2020 02:03:24 AM
Filed under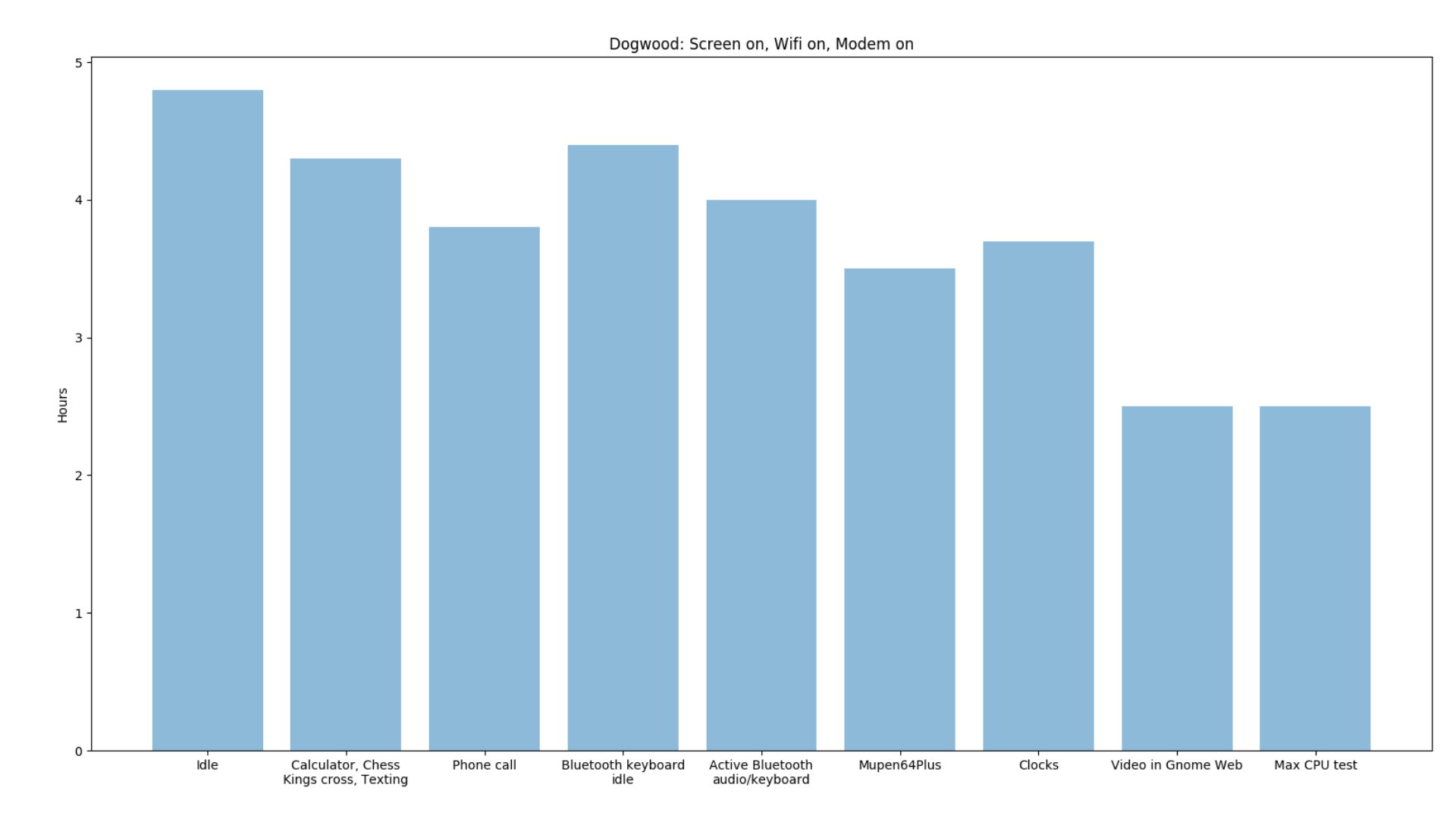 Flipping the CPU to the other side of the PCB means that under heavy load, Dogwood's screen heats up a bit more, while Chestnut heats the back cover. The way Dogwood manages heat is much more efficient, resulting in the hottest spot being 4 degrees Celsius cooler than in Chestnut.

Purism has revealed more details about their improved "Dogwood" batch that will be soon shipping for their Librem 5 GNU/Linux smartphone. The battery life is longer but still short of what is provided by modern day flagship smartphones.

Dogwood is the batch of the Librem 5 smartphone with significant hardware improvements as well as continued software improvements. Librem 5 Dogwood flips the SoC to the other side of the PCB to improve heat dissipation, upgraded to a 3600 mAh battery that is 75~80% larger than what shipped on prior revisions, and more robust build quality of the chassis/device itself.

[...]

- The idle battery life is just under five hours with the screen on. On another graph looking at the battery life with the screen off it appears to be just over 35k seconds, or just over nine and a half hours. Still not to get through the day and that's assuming not interacting with the phone at all, but at least better than before where the Chestnut revision got less than six hours of battery life with the screen off.

- For battery life if just making phone calls, it's just under four hours.
»
Printer-friendly version

2170 reads

PDF version
More in Tux Machines
today's howtos

''4 Best Lightweight Linux Distros to install on USB Drive for Portable OS

Well, it doesn't mean the only scenario one requires one of the best Live USB bootable Linux distros when he or she needs to use the computer that is not trustable. There are other situations as well, such as your current system is running Windows and you don't want to have dual boot on your system, and still want to try out Linux? Then use the USB running Linux system. One of the main reasons that make Linux Distro an extremely portable operating system is the low consumption of RAM, depending upon the OS version or GUI, and support to run in a Live environment. This also beneficial for testing, preparing, backing up, or handling drive of the system that are crashed somehow… Furthermore, the machine without a hard disk can also be used with USB drive Linux OS Although we can install any Linux distro on a USB drive, however, here we will show the best open-source Linux distributions that are light in weight, consume less RAM, and other hardware resources to become a perfect portable OS option for Pen drives.

SUSE/OpenSUSE: OpenSUSE + LibreOffice Conference, ZeroLogon, YaST and More

Devices With GNU/Linux

The Banana Pi BPI-M5 SBC, based on the 2.0GHz quad-core Amlogic S905X3 SoC, features 4GB RAM, 16G eMMC, microSD, HDMI, 3.5mm audio, GbE LAN, 4x USB3.0, and 40-pin Raspberry Pi style expansion.

Variscite's "VAR-SOM-MX8M-PLUS" and smaller "DART-MX8M-PLUS" modules run Linux or Android on NXP's AI-enabled i.MX8M Plus with up to 4GB LPDDR4, 64GB eMMC, WiFi/BT, and optional dev kits. Variscite has launched some of the first embedded boards to support NXP's i.MX8M Plus, an up to quad-core, Cortex-A53 SoC running at 1.8GHz and equipped with a 2.3-TOPs Neural Processing Unit (NPU). Variscite's VAR-SOM-MX8M-PLUS and DART-MX8M-PLUS modules join TechNexion's Wandboard IMX8M-Plus SBC and the Wandboard IMX8M-Plus EDM SOM module that powers it. Toradex, meanwhile, has teased an upcoming Verdin iMX8M Plus module.

A few months ago we covered DR6018 (aka CP01) WiFi 6 Embedded SBC powered by Qualcomm IPQ6018 processor and offering six Ethernet ports including five Gigabit interfaces and one 2.5 Gbps Ethernet port. Wallys Communications has now informed CNX Software they had a new version of the board called DR6018 V2 with a more compact form factor, support for PoE, as well as optional WiFi 6E and 5G IoT M.2 modules.

A complete Platform Development Kit (PDK) with Linux board support package (BSP), open API and FPGA reference design source code is available to allow customers to develop their own signal processing applications for Matchstiq Z3u. This PDK leverages the same API and FPGA reference design used with Epiq's Sidekiq portfolio of SDR modules, providing a familiar interface for existing customers.