Linux Mint Monthly News and Ubuntu Leftovers
Submitted by Roy Schestowitz on Friday 31st of July 2020 09:43:51 PM
Filed under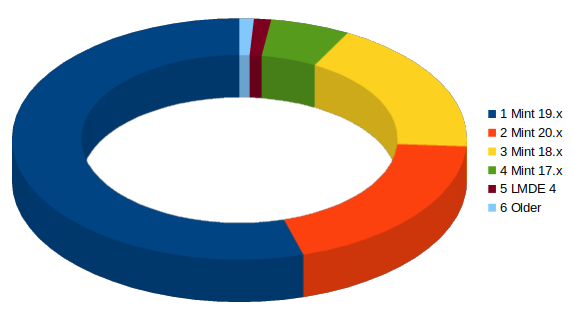 I'd like to thank you all for your support. Donations are usually quite high after a release and Linux Mint 20 is no exception. We received 924 donations in a single month! That's quite an impressive number and it makes us feel really proud, both as a project and a community.

Linux Mint 20 was well received but it introduced new challenges, both as a release and an upgrade. We'll be focused on tackling these challenges for the next two years as well as implementing exciting refinements and new features in the upcoming point releases. Some of these are already listed on our Trello boards and roadmaps. I'd rather talk about them once they're implemented and ready to be shipped though. Hopefully this time next month we'll be able to give you a preview of some of them.

In last month's feedback we noted some users would like Linux Mint to package Chromium. We also observed confusion and lack of empowerment when it comes to dealing with foreign packages during the upgrade. These are two areas we're looking into at the moment.

LMDE 4 received many updates lately, including the new features from Linux Mint 20 and Cinnamon 4.6.

A study on the popularity of Linux Mint releases showed some interested results and comforted some of the perception we had of our user base. 

       

Canonical is proud to announce the general availability of OSM release EIGHT images in it's Charmed OSM distribution. As of Release SEVEN, OSM is able to orchestrate containerised network functions (CNFs) leveraging Kubernetes as the underlying infrastructure for next-generation 5G services. Release EIGHT follows the same direction and brings new features that allow for the orchestration of a broader range of network functions and production environments.

Open Source MANO (OSM) Release EIGHT is the result of great community work in a project that drives the most complete open source network function virtualisation (NFV) orchestrator in the market.

This month:
* Command & Conquer
* How-To : Python, Podcast Production, and Rawtherapee
* Graphics : Inkscape
* Graphics : Krita for Old Photos
* Linux Loopback
* Everyday Ubuntu
* Ubports Touch
* Review : Ubuntu Unity 20.04
* Ubuntu Games : Mable And The Wood
plus: News, My Opinion, The Daily Waddle, Q&A, and more.
»
Printer-friendly version

3757 reads

PDF version
More in Tux Machines
Programming Leftovers

Graphics: Mali, GRVK, Vulkan

The Panfrost Gallium3D OpenGL driver and PanVK open-source drivers in Mesa have come a long way via reverse-engineering for Arm Mali graphics support. However, to this point the focus has been on Arm's "Midgard" and "Bifrost" architectures while the newer "Valhall" architecture has been around the past two years. The Panfrost effort for bringing up Valhall is now getting underway. Alyssa Rosenzweig who has led the Panfrost effort for open-source Arm Mali graphics has been working for a while now on getting Arm's Valhall architecture reverse-engineered and supported by the Linux graphics driver code. (That's also in addition to her separate work on reverse-engineering the Apple M1 graphics as another ongoing open-source adventure.)

It's been a number of months since GRVK 0.4 as the open-source project re-implementing AMD's defunct Mantle API over the modern Vulkan API that was originally based on the former. With Sunday's release of GRVK 0.5, this Mantle-on-Vulkan translation layer is now capable of correctly rendering Battlefield 4. Battlefield 4 back in the day was one of the flagship titles having a native Mantle renderer for that AMD-specific graphics API. Battlefield 4 was a flagship title for Mantle and one of the few games using this API along with the likes of Battlefield Hardline, Thief, Sniper Elite III, and others.

Landing in Mesa 22.0 on Sunday night was the Radeon Vulkan driver "RADV" support for the recently introduced VK_KHR_dynamic_rendering extension. VK_KHR_dynamic_rendering premiered last month with Vulkan 1.2.197. This new extension allows for creating single-pass render pass instances without the need of creating render pass objects or frame-buffers. The Khronos documentation on dynamic rendering explains, "If you're not using multiple subpasses or input attachments though, go ahead, rip those render pass objects right out! Dynamic rendering offers similar rendering performance to a single pass render pass object but with a much simpler interface on all implementations. Hopefully this extension will make writing future Vulkan renderers just a bit more enjoyable."

Games: AssaultCube Release, Shadow Tactics: Blades of the Shogun - Aiko's Choice, and More

Canonical/Ubuntu: Canonical Data Platform, Ubuntu Weekly Newsletter, and Google Clown

It's that time of the year again: many folks are panic buying cans of windscreen de-icer spray and thermal underwear, bringing pine trees into the front room and preparing to enjoy an extended break with the family. So we thought to ourselves, what better time than now to take a look back at the year gone by on the Canonical Data Platform?

Welcome to the Ubuntu Weekly Newsletter, Issue 712 for the week of November 28 – December 4, 2021. The full version of this issue is available here.

Since I wrote Launch Ubuntu Desktop on Google Cloud last week, I kept thinking about putting Ubuntu Desktop into containers. A container is an independent unit of software packages and their dependencies so that the application on the container can run reliably in different computing environments. Docker, an open-source project launched in 2013, made Container technology popular all over the world in just a few years. Why? Let's compare Containers and Virtual Machines.