Puddletag Audio Tagger 2.0.1 Released with Python 3 Port
Submitted by Roy Schestowitz on Monday 31st of August 2020 10:05:26 PM
Filed under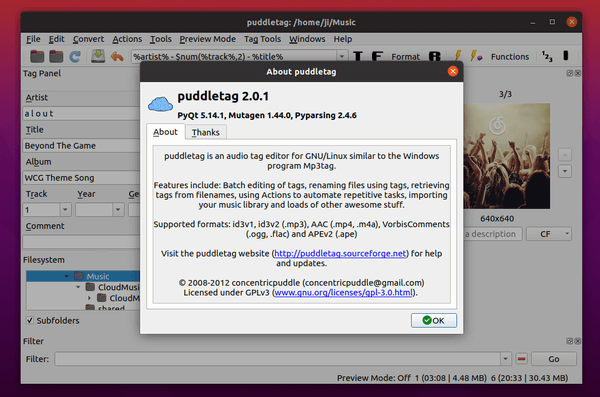 Puddletag audio tag editor 2.0.1 was released 2 days ago with official Python 3 and PyQt5 support.
Since Ubuntu 20.04 dropped Qt4 and old Python 2 libraries, Puddletag 1.2 as well was removed from Ubuntu universe repository.
The Python 3 & PyQt5 branch was started a few months ago by sandrotosi. Now it's finally merged into Puddletag 2.0.1.
»
Printer-friendly version

3315 reads

PDF version
More in Tux Machines
Programming Leftovers

'Secrets' - Modern Simple GTK4 App to Store Your Passwords in Ubuntu / Fedora

Looking for an app to store your passwords? Secrets is a good choice for those using GNOME desktop. "Secrets" is a free open-source password manager that integrates perfectly with GNOME desktop and provides a modern and easy to use user interface. It's formerly Password Safe (nothing to do with pwsafe). Since v6.0, it's called Secrets. Also: JACK2 1.9.20 Released With Official FreeBSD Support

Top 4 Linux Distros for Beginners (2022)

As we come into the new year, it might be part of your New Year's Resolution to make the big move to the amazing world that is the Linux OS. If so, then the first hurdle you will have to overcome is choosing what distribution (distro) you want to use.

'Nordic' GTK Theme Brings Nord Color Scheme to Linux Desktops

If you want to bring the chilled out tones of the popular Nord theme to your Ubuntu desktop you simply must check out the 'Nordic' GTK theme. The Nordic GTK theme is a faithful implementation of the popular colour-scheme of the Nord theme For GTK-based desktop environment. Like the similarly-ubiquitous Dracula theme, Nord is a hugely popular colour scheme with developers, and there are a ton of ports for all kinds of applications. Originally created to provide "optimal focus and readability for code", Nord has bloomed in popularity with developers and non-developers alike.