Sculpt OS release 20.08
Submitted by Roy Schestowitz on Sunday 20th of September 2020 02:25:03 AM
Filed under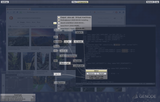 The new version of Sculpt OS is based on the latest Genode release 20.08. In particular, it incorporates the redesigned GUI stack to the benefit of quicker boot times, improved interactive responsiveness, and better pixel output quality. It also removes the last traces of the noux runtime. Fortunately, these massive under-the-hood changes do not disrupt the user-visible surface of Sculpt. Most users will feel right at home.

Upon closer inspection, there are couple of new features to appreciate. The CPU-affinity of each component can now be restricted interactively by the user, components can be easily restarted via a click on a button, font-size changes have an immediate effect now, and the VESA driver (used when running Sculpt in a virtual machine) can dynamically change the screen resolution.

Building off the recent Genode OS 20.08 operating system framework release is now Sculpt OS 20.08 as the open-source project's general purpose operating system attempt.

Sculpt OS 20.08 pulls in the notable Genode 20.08 changes like the redesigned GUI stack with better responsiveness and other benefits. It also includes the ability to run the Falk web browser as the first Chromium-based browser on Genode/Sculpt.

Sculpt OS is Genode's effort around creating a general purpose OS but for right now is still largely limited to developers, hobbyists, and those wishing to tinker around with new operating systems.
»
Printer-friendly version

1837 reads

PDF version
More in Tux Machines
today's leftovers

Programming Leftovers

IBM Red Hat vs. SUSE: How do these Linux distributions stack up?

IBM Red Hat and SUSE are the leading vendors in the open source enterprise Linux market, but how do these two builds compare? Learn the history of IBM Red Hat vs. SUSE and compare numerous criteria -- including the architectures each supports and how each distribution addresses the learning curve -- as well as product support offerings, pricing and certifications. Like other Linux distributions, RHEL and SUSE both support a comprehensive set of commands. When comparing these two distributions, it's worth noting that, although some commands are common to all Linux distributions, IBM Red Hat and SUSE also have their own command sets. Additionally, the commands these Linux distributions support tend to evolve over time. [...] Like any Linux distribution, SLES has a significant learning curve, particularly for those who are new to Linux OSes. However, SUSE does offer comprehensive training resources, including online and in-person classes. SLES is sold as a one- or three-year subscription. The subscription cost is based on the number of sockets or VMs, the architecture and the support option the organization selects. A one-year subscription for an x86/x64 OS running on one to two sockets or one to two VMs with Standard support starts at $799. SUSE offers two support options: Standard and Priority. Its Standard support plan includes assistance with software upgrades and updates, as well as unlimited technical support via chat, phone or web. Support is available 12 hours per day, five days per week, with a two-hour response time for Severity 1 issues and a four-hour response time for Severity 2 issues. Also: Simply NUC mini data center > Tux-Techie

LibreOffice 7.1 Layout Updates and "typical errors when creating presentation templates"

You know the LibreOffice community work hard on the LibreOffice 7.1 Christmas release. Did you know that LibreOffice has 7 different UI Layouts? With the next release, our uses will be informed after the installation. Thanks to Heiko for the new dialog.

Try click somewhere on slide in area with rectangles. You can select any from these rectangles include the largest grey rectangle that author used as background for all composition. Its all are just shapes! This is an absolutely wrong way when you create a presentation template!