Raspberry Pi Compute Module 4
Submitted by Roy Schestowitz on Monday 19th of October 2020 03:08:31 PM
Filed under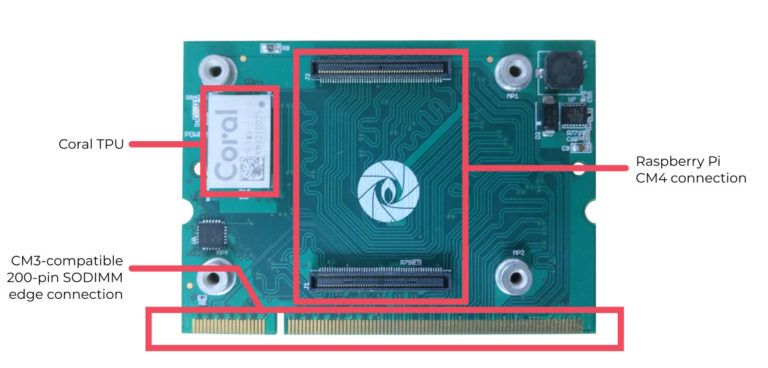 Raspberry Pi Trading has just launched 32 different models of Raspberry Pi CM4 and CM4Lite systems-on-module, as well as the "IO board" carrier board.

But the company has also worked with third-parties, and Gumstix, an Altium company, has unveiled four different carrier boards for the Raspberry Pi Compute Module 4, as well as a convenient CM4 to CM3 adapter board that enables the use of Raspberry Pi CM4 on all/most carrier boards for the Compute Module 3/3+.

  

We were expecting Raspberry Pi Compute Module 4 sometimes next year, but Raspberry Pi Trading Limited managed to launch the new module much earlier, as Raspberry Pi CM4 and CM4Lite modules have just been launched with a new, much more compact form factor incompatible with the earlier Compute Modules, an I/O board making use of the new features, and a choice of 32 models with variations in terms of memory and storage capacity, as well as the presence or lack thereof of a WiFi and Bluetooth wireless module.
»
Printer-friendly version

3417 reads

PDF version
More in Tux Machines
13 Best Free and Open Source Python Microframeworks

One of the types of software that's important for a web developer is the web framework. A framework "is a code library that makes a developer's life easier when building reliable, scalable, and maintainable web applications" by providing reusable code or extensions for common operations. By saving development time, developers can concentrate on application logic rather than mundane elements. A web framework offers the developer a choice about how to solve a specific problem. By using a framework, a developer lets the framework control portions of their application. While it's perfectly possible to code a web application without using a framework, it's more practical to use one.

Customize Task Switching Experience on GNOME Desktop With These Nifty Tools

Unless you're new to Linux, you know that there are several popular desktop environment choices for users. And if you're that newbie, I recommend you to learn what a desktop environment is along with this tutorial. Here, I shall be focusing on tweaking the task switching experience on GNOME. I know that the majority of users just tend to use it as is and stock settings are good enough for the most part. I mean there is nothing wrong with the application switcher that you use with Alt+Tab keyboard shortcut in Ubuntu.

How to Install Arch Linux [Beginner's Guide]

This beginner's guide explains the steps on how to install Arch Linux - in a most easy and friendly way.

Valve Backs Zink Work

I guess I never left, really, since I've been vicariously living the life of someone who still writes zink patches through reviewing and discussing some great community efforts that are ongoing. But now I'm back living that life of someone who writes zink patches. Valve has generously agreed to sponsor my work on graphics-related projects. For the time being, that work happens to be zink.

Longtime open-source developer Mike Blumenkrantz who has been an Enlightenment developer for many years and was working for Samsung's Open-Source Group prior to its demise jumped into the open-source Linux graphics world this year. While being unemployed he began hacking on the Zink Gallium3D code that allows generic OpenGL acceleration over the Vulkan API. He quickly got the code to the point of OpenGL 4.6 support and quite compelling performance compared to where Zink was at earlier this year. Now it turns out he will continue with his Linux graphics adventures thanks to funding from Valve. Mike Blumenkrantz shared today that Valve is going to be sponsoring his graphics-related work moving forward. At least for now, that Linux graphics work is still on the matter of Zink.