FSF Giving Guide: It's the thought that counts, so think freedom
Submitted by Roy Schestowitz on Saturday 21st of November 2020 01:42:57 AM
Filed under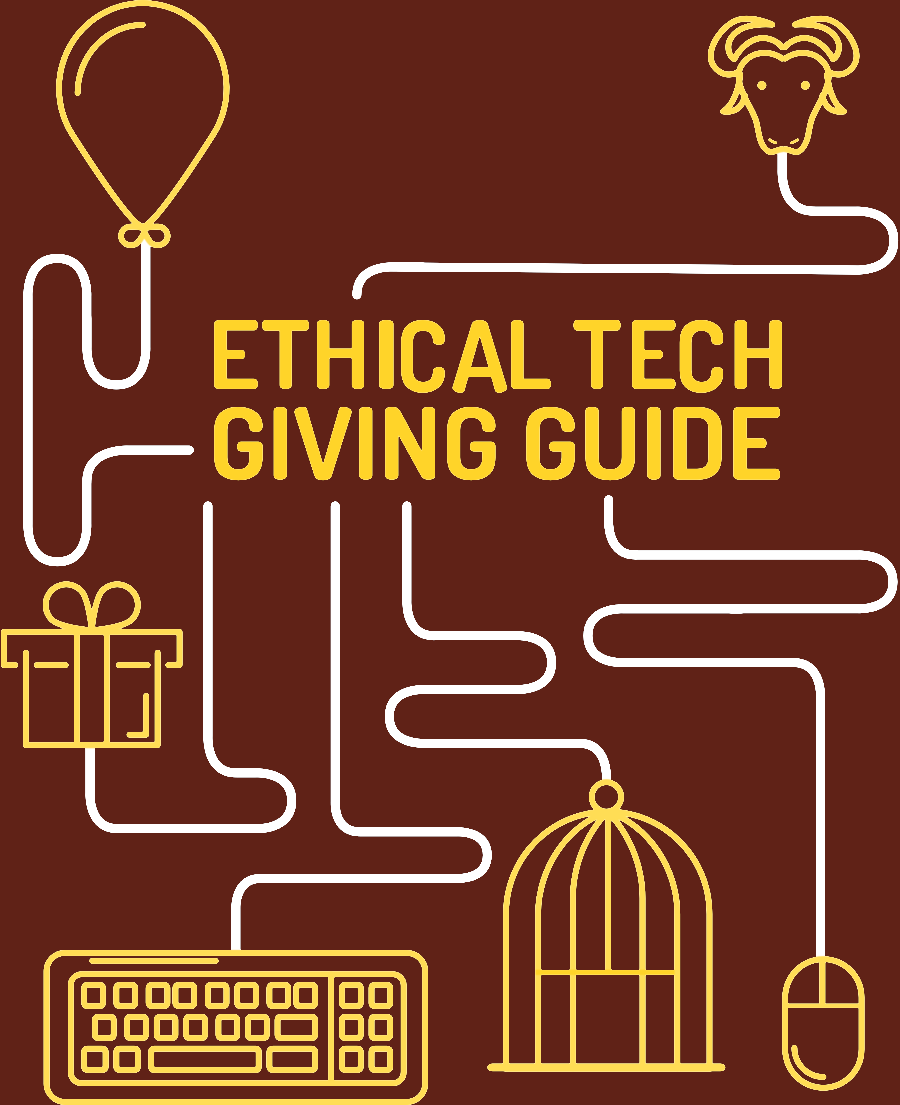 Even though we're still in the midst of the pandemic, the holiday season is upon us, and with it comes the time people around the world give gifts to show their appreciation. Companies are starting their sales early this year, and as usual are focusing heavily on tech gifts. But before you buy anything, you should make sure that that gift isn't putting your friend or family member under unjust control.
Each year, the Free Software Foundation (FSF) publishes a new version of our Ethical Tech Giving Guide as a way to help concerned individuals make sure that the presents they plan on giving their loved ones don't come with dangerous consequences for their freedom. Many of these devices have been through our Respects Your Freedom (RYF) certification program, meaning that they and the retailers that offer them have been held to the highest scrutiny when it comes to matters of software freedom.
In the last year, some of the devices on this list have become scarcer, highlighting the pressing need for more hardware that is compatible with a fully free system. Some devices we recommend may only be available from a certain retailer. While it may not be readily available in local stores, offering a gift like the Libiquity Taurinus X200 is perfect for someone who has just become aware of free software's importance and is interested in going further, or for the free software activist in your life who would love for you to support a company trying to do the right thing. Even better, by avoiding popular but ethically unacceptable devices from manufacturers like Apple, you're letting your loved ones know that you care about them too much to compromise their freedom. By choosing a device like the upcoming Librem 5 mobile phone from the Giving Guide, you're walking a different path from everyone else, choosing the road to freedom instead of subjugation.
»
Printer-friendly version

1556 reads

PDF version
More in Tux Machines
13 Best Free and Open Source Python Microframeworks

One of the types of software that's important for a web developer is the web framework. A framework "is a code library that makes a developer's life easier when building reliable, scalable, and maintainable web applications" by providing reusable code or extensions for common operations. By saving development time, developers can concentrate on application logic rather than mundane elements. A web framework offers the developer a choice about how to solve a specific problem. By using a framework, a developer lets the framework control portions of their application. While it's perfectly possible to code a web application without using a framework, it's more practical to use one.

Customize Task Switching Experience on GNOME Desktop With These Nifty Tools

Unless you're new to Linux, you know that there are several popular desktop environment choices for users. And if you're that newbie, I recommend you to learn what a desktop environment is along with this tutorial. Here, I shall be focusing on tweaking the task switching experience on GNOME. I know that the majority of users just tend to use it as is and stock settings are good enough for the most part. I mean there is nothing wrong with the application switcher that you use with Alt+Tab keyboard shortcut in Ubuntu.

How to Install Arch Linux [Beginner's Guide]

This beginner's guide explains the steps on how to install Arch Linux - in a most easy and friendly way.

Valve Backs Zink Work

I guess I never left, really, since I've been vicariously living the life of someone who still writes zink patches through reviewing and discussing some great community efforts that are ongoing. But now I'm back living that life of someone who writes zink patches. Valve has generously agreed to sponsor my work on graphics-related projects. For the time being, that work happens to be zink.

Longtime open-source developer Mike Blumenkrantz who has been an Enlightenment developer for many years and was working for Samsung's Open-Source Group prior to its demise jumped into the open-source Linux graphics world this year. While being unemployed he began hacking on the Zink Gallium3D code that allows generic OpenGL acceleration over the Vulkan API. He quickly got the code to the point of OpenGL 4.6 support and quite compelling performance compared to where Zink was at earlier this year. Now it turns out he will continue with his Linux graphics adventures thanks to funding from Valve. Mike Blumenkrantz shared today that Valve is going to be sponsoring his graphics-related work moving forward. At least for now, that Linux graphics work is still on the matter of Zink.