Annotate PDFs On Linux With PDFrankenstein
Submitted by Roy Schestowitz on Sunday 29th of May 2022 07:09:58 AM
Filed under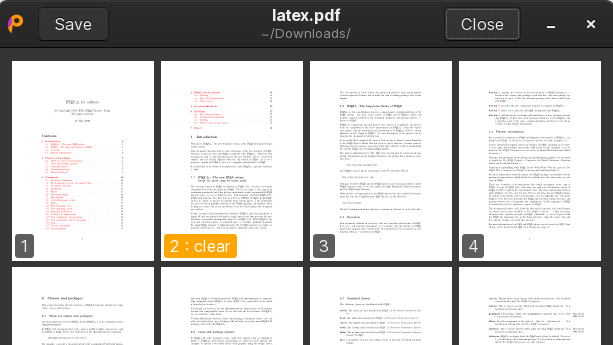 On Windows and Mac machines, it's not too troublesome to add text or drawings (such as signatures) to PDF files, but [Mansour Behabadi] found that on Linux machines, there didn't seem to be a satisfying way or a simple tool. Being an enterprising hacker, [Mansour] set out to fill that gap, and the way it works under the hood is delightfully hacky, indeed.
The main thing standing in the way of creating such a tool is that the PDF format is a complex and twisty thing. Making a general-purpose PDF editing tool capable of inserting hyperlinks, notes, images, or drawings isn't exactly a weekend project. But [Mansour] didn't let that stop him; he leveraged the fact that tools already exist on Linux that can read and create PDF files, and tied them all together into what was at one point "a horrific patchwork of tools" which inspired the name pdfrankenstein.
»
Printer-friendly version

2958 reads

PDF version
More in Tux Machines
Thunderbird 102 Gets Makeover with New Colourful Icons, Redesigned UI

Release highlights of open-source email client Thunderbird 102 which brings revamped UI, fresh icons, Matrix chat support and more.

today's leftovers

today's howtos

Security Leftovers

Sysdig today added a Drift Control capability to its container security platform that makes it possible to lock down runtime environments. Daniella Pontes, senior manager for product marketing at Sysdig, says IT teams can now maintain immutable instances of runtimes in production environments that can't be modified. At the same time, Sysdig says it is partnering with Proofpoint to make threat intelligence feeds available to IT teams that have deployed its container security platform. The Sysdig container platform is built on Falco, an open source container runtime security platform that is being advanced under the auspices of the Cloud Native Computing Foundation (CNCF).

The software development life cycle is not a one-off process that software developers can implement in a linear form. Instead, there are phases of the SDLC that intertwine into many loops where thorough checks are carried out to ensure the proper outcome of the software. However, it's not just enough to loop through the phases of SDLC without the proper integration of security checks in each phase. So, what, then, makes a secure software development life cycle?

The US Cybersecurity and Infrastructure Security Agency (CISA) says a Linux vulnerability tracked as CVE-2021-4034 and PwnKit has been exploited in attacks. The flaw, which came to light in January, affects Polkit, a component designed for controlling system-wide privileges in Unix-like operating systems. Polkit is developed by Red Hat, but it's also used by other Linux distributions. PwnKit has been described as a memory corruption issue that can be exploited for privilege escalation — it allows any unprivileged local user to elevate permissions to root.